Herbalife 24FIT
Workout DVD Set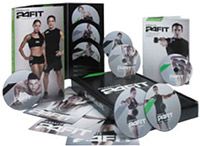 Any age, any condition - Anyone can build a better body with herbalife 24FIT!
Designed by Herbalife with Robert Forster, a renowned physical therapist, and performance specialist to world-class professional athletes. herbalife 24FIT helps you get more gain with less pain.
Follow the three simple either-week phases, as designed, take your recovery seriously and you'll become a 24-Hour Athlete.
Introduction
24FIT Phases
The Herbalife 24FIT programme is based on periodisation training and consists of three phases that are specifically designed to be performed in order.
Phase 1 - Stability
Stability prepares your body with low-intensity, light-impact training specifically designed to strengthen the muscles that keep joints in their correct, natural positions.
Phase 2 - Strength
Strength takes your now properly-aligned body and focuses on building muscle with variable low to high-intensity exercises.
Phase 3 - Power
Power introduces high-intensity exercises to refine your new strength and increase your stamina, speed and efficiency.
24FIT Coaches
Samantha Clayton
Samantha Clayton is an athlete, fitness instructor, spokesmodel and mother of four. She competed in both the 200m and 4 x 100m relay in the 2000 Summer Olympics in Sydney.
Earlier in her career she ran for the Birchfield Harriers for six years. In 1996 she was named European Club MVP after she placed first in four relays.
Tom Holland
Tom Holland is an exercise physiologist committed to helping people live better lives through fitness. Through his acclaimed books and video workouts, Tom has encouraged thousands of people to reach their fitness goals.
An elete endurance athlete, Tom has run over 50 marathons, is a 19-time IRONMAN® triathlete and has won several natural bodybuilding awards.
24FIT Nutrition
Nutrition is an essential component of any fitness program. Herbalife24 products will help you get the most out of your 24FIT workouts.
Details
Herbalife24 24FIT comes with 13 DVDs and is a 24 week programme.
You can do the programme in your own home, and it is suitable for people of any fitness level.